Review of 'Binaural Dinner-Date': augmented reality for your ears
The other day a random email popped into my inbox.
The subject title was: "Alone, or as a Couple. #BeTheDate opens tonight!"
Intrigued, I clicked, and saw the words: "Binaural Dinner Date".
More intrigue followed:
"Across the table, within arms reach is another human being. Is this the one?
How many questions need to be asked before you feel like you are getting to know each other? Binaural Dinner Date is an audio experience that looks at dating from the inside out.
Part interactive performance, part dating agency, Binaural Dinner Date invites genuine applications from individuals looking for love, or existing couples who simply want a very different dating experience"
The word "Binaural" obviously intrigued me, given that Antenna are part of BINCI, a Europe-wide initiative to make binaural sound-creating tools more accessible, and given that we are currently working on immersive 3D-audio storytelling experiences ourselves for cultural institutions around the world.
So, a few web searches later, and I was pretty much none the wiser: ZU-UK, a theatre group with ties to Rio de Janeiro; Gerry's Kitchen, some kind of restaurant in a theatre in the east end of London; 12 sold-out preview performances earlier this year. Interesting…
I decided to buy tickets.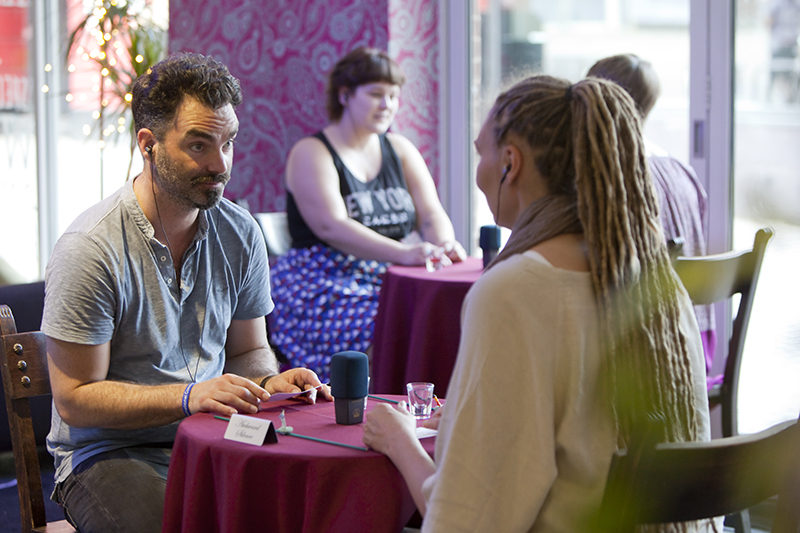 An out-of-body, immersive, 3D-audio experience…with alcohol
Pulling up to the Stratford Theatre, looking through the glass at a mostly empty restaurant with people standing around, and desparately driving in circles to find parking, my girlfriend and I almost turned around to go home.
Boy, was I glad I didn't.
Upon entering, admist gasps of surprise at our lateness, we were ushered into an unpretentious corner of the restaurant. Our coats were taken, our table prepared, and we were sat down by extremely welcoming hosts. Drinks were brought. In the centre of the table was a multi-directional microphone, and a pair of 'in-the-ear' headphones on either side. With some trepidation and excitement, we put them in…
What then followed was an experience I'll never forget.
We were immersed in the sounds of a busy restaurant environment. Amidst this we could hear each others voices. And another voice – a narrator of some kind, giving us directions on what to say. I quickly realised my date was not being given the same instructions! This resulted in a highly amusing and gripping exchange which, amidst the 3D soundscape, felt somewhat like an out-of-body experience.
Islamic Fundamentalism, Trump and desire
The night continued… amidst guided conversations about our parents, Trump, Islamic fundamentalism, emotions and desires, we were presented with a number of interesting diversions:
First, a small diorama with minature figures and scenery was placed on our table. These were 3 couples on dates in various locations: a park, a museum and a restaurant. We were taken to all 3 in sequence: fully immersed in the imaginary locations with the binaural sound, listening to the trepidation and blunders of awkward first dates as if we were there. It was incredibly emotive.
Second, our waiter, constantly moving around us setting tables and serving drinks, came and entertained us and the adjacent couple with unusual 'games' of varying format, asking questions, timing answers, getting us to move and say things depending on the format of the game. With the 3D sound, it was an almost ethereal experience, like being in a game show, or being shown a magic trick.
Thirdly (and the real highlight for me of the night's experience), our attention was turned to the windows of the restaurant, as the narrator asked us to contemplate a pocket of East-London life through the glass in the square outside.
Worlds within worlds within worlds
"Observe the man smoking under the neon sign. Look at the man carrying a bag, think about his hopes and dreams, his loss and regrets. Look at that woman walking with such prupose, such determination…." It was at this point, that I realised the narrator, whom I had previously thought was a recorder voice, was actually a LIVE voice, reacting to and influencing ours and other's actions in real-time…
"Look at the waiter…he was once on a date like you…" as the immersive soundscape mingled with the narrator's voice to take us on a journey of lost love and human emotion that followed the waiter outside into the square, as he stopped a random (yes, completely random) passer-by and invited her to sit with him at a table for a date in front of the glass, unaware of the audience she had inside the restaurant…
I won't go into the detail here, safe to say that as improvistion goes this was thrilling, moving, and utterly unique.
In summary…
"Binaural dinner date" is a truly interactive, organic performance which successfully uses a technology which is arguably in its infancy to create a complex, multi-layered storytelling experience that makes you feel viscerally alive, not through clever tricks, but through original ideas and great acting. Brave, daring, and humble. highly recommended.
Binaural Dinner Date by ZU-UK is running from Thu 16th November – Sun 3rd December at the Stratford East, London. Book your tickets here.